(under re-construction)
After the Portuguese were defeated by the Maratha forces in 1739, all the churches and almost all the buildings from fortress were destroyed and looted by the Marathas. The bells from the churches various churches were looted, paraded, carried off on elephant backs as victory souvenirs. Number of bells in the Vasai fort are unknown but we can estimate by the number of churches in the fort. One such Bell was carried to and located at Naroshankar Temple (Source and picture) on the banks of Godavari river in Nasik, Panchavati area. The other church bell is located at Bhimashankar Temple is located in the village of Bhorgiri 50 km north west of Khed (Source and picture). Third bell is located at Meneshwar temple in Menavali near Panchgani (Source and pictures). This bell weighs six hundred and fifty kilograms. The date on the bell shows the year 1707 and has five-alloy bell bears a bas-relief of Mary carrying the infant Jesus Christ cast into it. Fourth church bell is located at Durga Devi temple, Murud (Source and picture)
First Church bell at Naroshankar temple and is so called "Naroshankarachi Ghanta". The bell was looted in 1739 from Our Lady of Immaculate Conception Church, Mt. Poinsur by the Marathas. It is 2.5-ft high and 10.25ft in circumference.
Second Church bell is located at Bhimashankar Temple is located in the village of Bhorgiri, near Khed. Notice 1729, the year when the bell was cast and cross and image of Jesus on the face of the bell. It is written on the supporting structure that the bell was brought to this temple in 1729, which is incorrect. The bell was brought more that 10 years later, after Portuguese were defeated in Vasai.
Third Church Bell in Meneshwar temple, Menavali
Fourth church bell from Vasai/Bessein fort is located at Durga Devi temple, Murud.
Fifth church bell from Vasai/Bessein fort is located at Baneshwar temple in Pune. Notice the Cross, bell was cast in the year 1683.
Sixth church bell from Vasai/Bassein fort is located at Loni Bhapkar in Baramati Tehsil of Pune District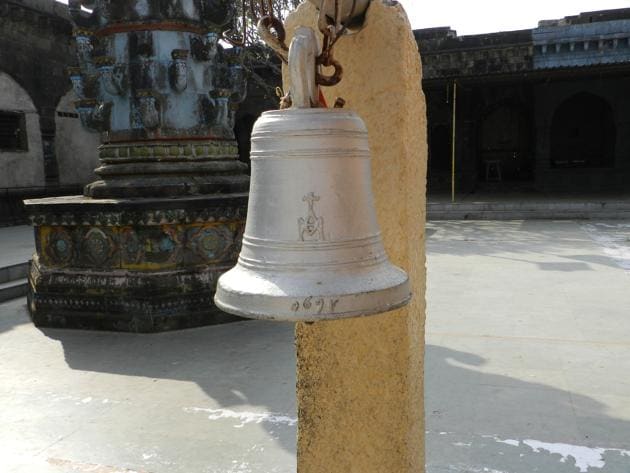 We still need to find one or two other bells that were taken from Vasai fort.